John Guider
John is currently making his way upstream on the Trent River in Canada. He began Phase VI on Friday, June 13th in the city of Trenton and will make his way through the Great Lakes on his way to. . .
read more
Posted 06/15/2014 in News
John left St. Marys, Georgia on April 17th to begin a three month journey up the east coast to New York City. On the first night he camped on Jekyll Island. Then, he was caught in a storm and lost. . .
read more
Posted 04/24/2012 in News
About:

In August 2003, John Guider walked out the back door of his home in Franklin, TN and placed a canoe in the creek behind his house. Three months later, he had paddled all the way to New Orleans. Along the way, Guider kept a detailed journal and took hundreds of remarkable photographs, documenting his amazing journey that led him down five rivers, including the Mighty Mississippi. A traveling exhibition of his photography and this companion coffee table book chronicle this life changing experience and bring this adventure to thousands of Arm-Chair Adventurers across America.

In the fall of 2008, John decided to start a new adventure, rowing and sailing the Great Loop. This time John built his own 14.5 foot Expedition Skerry (a cross between a sailboat and rowboat). He set sail in the Cumberland River in Nashville, TN on June 6th, 2009 and two months later he had reached the Mississippi shore in the Gulf of Mexico.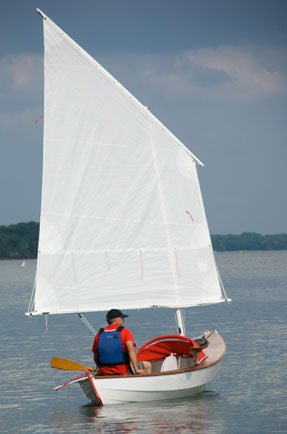 Chesapeake Light Craft in Annapolis, MD helped John make modifications to his boat so that it would be more seaworthy in the Gulf. The deck was replaced and the sail rigging modified. John began Phase II of his Great Loop journey from Bayou Caddy, MS on June 9th, 2010 and two months later he arrived in Sarasota, FL.
John returned to Florida in April 2011 and made his way through Key West and up the east coast to Cumberland Island, Georgia in two months time. John is currently back on the water with the goal of reaching New York City by early July 2012.
The Book:

Publisher: FRP, Inc.
Hardcover, 228 pages
Price: $49.95

The Great Loop - Map:
Recent Facebook Updates:
Copyright © 2010 John Guider - All Rights Reserved
Site by
Stacey Irvin