John Guider
John is currently making his way upstream on the Trent River in Canada. He began Phase VI on Friday, June 13th in the city of Trenton and will make his way through the Great Lakes on his way to. . .
read more
Posted 06/15/2014 in News
John left St. Marys, Georgia on April 17th to begin a three month journey up the east coast to New York City. On the first night he camped on Jekyll Island. Then, he was caught in a storm and lost. . .
read more
Posted 04/24/2012 in News
About:

In August 2003, John Guider walked out the back door of his home in Franklin, TN and placed a canoe in the creek behind his house. Three months later, he had paddled all the way to New Orleans. Along the way, Guider kept a detailed journal and took hundreds of remarkable photographs, documenting his amazing journey that led him down five rivers, including the Mighty Mississippi. A traveling exhibition of his photography and this companion coffee table book chronicle this life changing experience and bring this adventure to thousands of Arm-Chair Adventurers across America.

In the fall of 2008, John decided to start a new adventure, rowing and sailing the Great Loop. This time John built his own 14.5 foot Expedition Skerry (a cross between a sailboat and rowboat). He set sail in the Cumberland River in Nashville, TN on June 6th, 2009 and two months later he had reached the Mississippi shore in the Gulf of Mexico.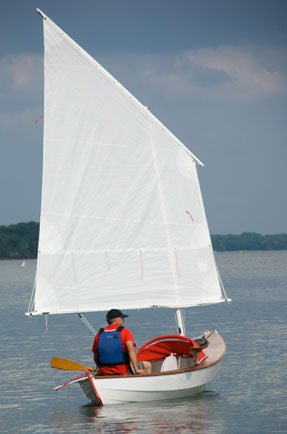 Chesapeake Light Craft in Annapolis, MD helped John make modifications to his boat so that it would be more seaworthy in the Gulf. The deck was replaced and the sail rigging modified. John began Phase II of his Great Loop journey from Bayou Caddy, MS on June 9th, 2010 and two months later he arrived in Sarasota, FL.
John returned to Florida in April 2011 and made his way through Key West and up the east coast to Cumberland Island, Georgia in two months time. John is currently back on the water with the goal of reaching New York City by early July 2012.
The Book:

Publisher: FRP, Inc.
Hardcover, 228 pages
Price: $49.95

The Great Loop - Map:
Current phase starting point. June 19, 2015
Current Location
Recent Facebook Updates:
Made it to Waukegan about 16 miles from Kenosha. The waves were residual from the night before so the wind just added a fresh topping. The gusts were softer and the tiller lighter on my hand. The late morning appearance of the sun helped my mode and the part of my brain that controls the music that I hum changed from the gloom and melancholy channel to the Disney channel. Even the whitecaps that attacked my boat on either side seemed more pleasing. Like little white florets on a layer of green blue icing.
I was able to get my first view of Chicago 35 miles away. The tallest of the buildings rose above the horizon line like some cosmic bar chart. What it was telling me I'm not quite sure.
I felt I could have gone further but I wasn't prepared. A bigger boat would have sailed right down the lake and be having happy hour at some Chicago bar right now.
Winds are supposed to grow tonight. Will just have to see what happens tomorrow.
One more cup of coffee before I go.....everywhere I've been people see my boat. Their eyes get big and they say you can't cross in that! It's the most dangerous water on the route. They manage too scare the hell out of me but I go anyway. I think with Lake Michigan I'm coming close to meet my match. North winds bring the seas while the south winds make it near impossible for me to sail. Plus I carry the lingering reminder that if I go in the water I have about 10 minutes to figure it out and with sailing point to point a lot of times I'm at least two hours from landing. The math doesn't quite work out. One more cup please.
Camping at the Kenosha Yacht Club.
The good people at the Kenosha Yacht Club are letting put up my tent on their property. Thanks guys
Copyright © 2010 John Guider - All Rights Reserved
Site by
Stacey Irvin